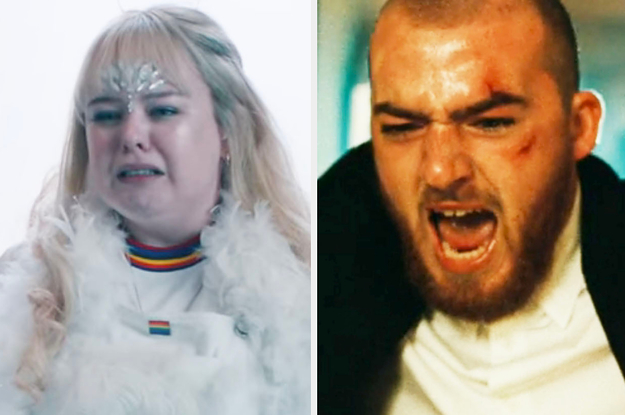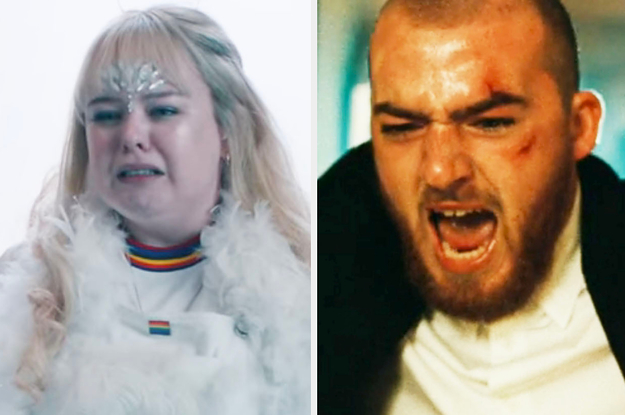 🚨 There are obviously MASSIVE spoilers ahead! 🚨

1.
On 1883, when Elsa was shot with an arrow, said goodbye to her mom, and ultimately died in her father's arms underneath a tree.
2.
On Chicago Fire, when a building collapsed on Hawkins while he was trying to save a victim of a fire, and Violet tried desperately to save him.
3.
On From Scratch, when Lino died as Amy sat at his bedside after his long battle with cancer.
4.
On Derry Girls, when Clare's father unexpectedly died and everyone hugged Clare at the hospital.
5.
On Killing Eve, when Villanelle died after finally getting together with Eve and just as the duo put an end to The Twelve.
6.
On This Is Us, when Miguel tragically died before Rebecca, all while his health deteriorated as he tried to take care of her.
7.
And on This Is Us, when Rebecca died and her entire last episode was dedicated to her subconsciously reliving her life on a train, all while waiting for Kate to arrive at her deathbed so she could say goodbye.
8.
On Yellowjackets, when Shauna and Jackie had a huge fight and Jackie left the cabin, only for her to freeze to death by the time Shauna went and found her in the morning.
9.
On The White Lotus, when Tanya killed the gays on the boat before she slipped, hit her head, and died herself.
10.
On Dead to Me, when Jen and Judy said goodbye without saying "goodbye" after Judy was diagnosed with terminal cancer.
11.
On Manifest, when Zeke sacrificed himself by absorbing Cal's cancer in order to save him.
12.
On Ozark, when Camila shot and killed Ruth after finding out from Clare that Ruth was the one who killed Javi.
13.
On Euphoria, when Ashtray was shot and killed during a raid at Fez's place even after Fez begged him to come out of the bathroom and surrender.
14.
On Peaky Blinders, when Tommy found out that Polly had been killed during Mosley's attempted assassination. Polly's death was written in after Helen McCrory died in 2021.
15.
And on Peaky Blinders, when Tommy shot and killed Michael after Michael tried (and failed) to kill him, thus fulfilling Polly's prediction.
16.
On FBI: Most Wanted, when Jess was shockingly shot and killed by Harley while trying to protect Lucy.
17.
On Wednesday, when Principal Weems seemingly* died after Thornhill stabbed her with a lethal injection after Weems and Wednesday discovered that she was behind the attacks at Nevermore.
18.
On House of the Dragon, when Viserys finally died and it sparked Alicent taking the Iron Throne from Rhaenyra.
19.
And on House of the Dragon, when Lucerys was torn apart by Aemond and his dragon, Vhagar, while flying through storm clouds.
20.
On Stranger Things, when Eddie tragically died after saving Dustin and helping to save all of Hawkins.
21.
On Better Call Saul, when Howard went to Jimmy and Kim's apartment to confront them, but was ultimately killed by Lalo after he showed up to talk to Jimmy and Kim, too.
22.
On Obi-Wan Kenobi, when Tala sacrificed herself to save Obi-Wan after Reva Sevander and a bunch of Stormtroopers arrived to try and take Leia.
23.
On For All Mankind, when Karen and Molly both tragically died after a bomb detonated outside the Johnson Space Center.
24.
On Dexter: New Blood, the series ended with Harrison confronting Dexter about his mom and Deb's deaths years ago. Then, Harrison seemingly* killed Dexter.
25.
On The Walking Dead series finale, when Luke was bleeding out after being attacked by walkers, and Yumiko, Connie, Magna, and Kelly couldn't save him.
26.
And on The Walking Dead, when Rosita was bit by a walker while saving her daughter during the series finale.
27.
On The Boys, when Homelander destroyed Black Noir after he found out that Noir knew Soldier Boy was his father the entire time.
28.
On The Umbrella Academy, when Allison killed Harlan and delivered his body to the Sparrows after he revealed that he killed the Umbrella Academy's mothers.
29.
On The Orville: New Horizons, when Charly sacrificed herself to destroy a weapon in order to save Kelly and the rest of the team.
30.
On Only Murders in the Building, when Season 2 ended with Ben, played by Paul Rudd, dying during opening night of a Broadway play that Oliver directed and Charles was starring in.
31.
On Andor, when Maarva died while Cassian was incarcerated on Narkina 5, and he returned home in time to see his mom's final message at her funeral.
32.
On The Patient, when Alan was choked to death by his patient Sam, who was a serial killer, after being held hostage.
33.
On Outlander, when Claire found Malva's dead body just outside the Ridge's garden, and it led to Claire being wrongly accused of her murder.
34.
On The Midnight Club, when Anya died right as the rest of the Midnight Club finished her story.
35.
And finally, on 9-1-1: Lone Star, when T.K.'s mom, Gwyn, shockingly died after being struck by someone riding a bike.
We can't fit everyone on this list, so tell us which other TV deaths from 2022 were devastating in the comments below!
TV and Movies
Get all the best moments in pop culture & entertainment delivered to your inbox.