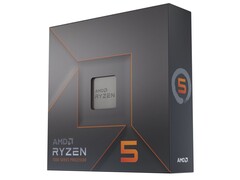 Introduced in late September 2022 with a US$299 list price, the AMD Ryzen 5 7600X desktop processor is now down to US$237 on Amazon, thanks to a 21% discount. Although it comes with integrated Radeon graphics, this 5 nm chip with a typical 105 W TDP does not retail bundled with a cooling solution.
On September 27, 2022, AMD introduced the Ryzen 9 7900X and 7950X, Ryzen 7 7700X, as well as the Ryzen 5 7600X. The latter had a launch price of US$299 and Amazon offered it for the same list price until a few days ago, when it went down to US$237 thanks to a 21% discount.
The AMD Ryzen 5 7600X is a mid-range desktop processor based on the Zen 4 architecture with 6 cores and 12 threads. The single-core boost speed can go up to 5.7 GHz, while the base clock frequency across all cores is 4.7 GHz. The maximum speed reached when all cores are loaded is 5.3 GHz. Obviously, these are all stock figures. Since the processor comes unlocked, higher clocks are just a few clicks away.
This chip also features a Radeon iGPU, but does not ship with a cooling solution. Compared to the Ryzen 5 chips from the 5000 series, it is a power hungry (and hot) piece of hardware, with a 105 W TDP value (when overclocking is not involved). The 204 ratings validated by Amazon so far deliver a 4.7/5 rating for the AMD Ryzen 5 7600X, with 83% perfect scores and 12% 4/5 ratings.
In addition to the processor alone, Amazon also has a few bundles that pair it with various motherboards from Asus, MSI, and Gigabyte (all links to these bundles are available on the AMD Ryzen 5 7600X Amazon product page).
Disclaimer: Notebookcheck is not responsible for price changes carried out by retailers. The discounted price or deal mentioned in this item was available at the time of writing and may be subject to time restrictions and/or limited unit availability.
Amazon (see affiliate link at the end of the article)
Codrut Nistor – Senior Tech Writer – 5889 articles published on Notebookcheck since 2013
In my early school days, I hated writing and having to make up stories. A decade later, I started to enjoy it. Since then, I published a few offline articles and then I moved to the online space, where I contributed to major websites that are still present online as of 2021 such as Softpedia, Brothersoft, Download3000, but I also wrote for multiple blogs that have disappeared over the years. I've been riding with the Notebookcheck crew since 2013 and I am not planning to leave it anytime soon. In love with good mechanical keyboards, vinyl and tape sound, but also smartphones, streaming services, and digital art.
Codrut Nistor, 2023-03- 7 (Update: 2023-03- 7)