LEXINGTON, Ky. — SNKR BST returned to Lexington this weekend, where resellers and sneaker fanatics got to showcase exclusive shoes and more to a local crowd.
---
What You Need To Know
SNKR BST gives local vendors in and around Kentucky an opportunity to network and provide sneaker dreams around the commonwealth

Vendors say sneaker deals have heightened after the pandemic

The local sneaker-beast group will return to Louisville this March for its annual March Madness sneaker con

SNKRBST is in its 3rd year and is free for the public and all sneaker fans
---
Custom tennis shoes, clothing and other fashionable pieces took over Lexington at this year's festival.
Lexington's shoe reseller, 859's Find's Jaymon Blanton, is also back for another year of the sneaker mania, and what he says are decent deals for everyone. 
"I haven't got to pay the retail price and there's like a little bit of resale, but you can still make a few bucks on it and give someone a good deal at the same time because they're hard to get," Blanton said as he described a pair of kicks.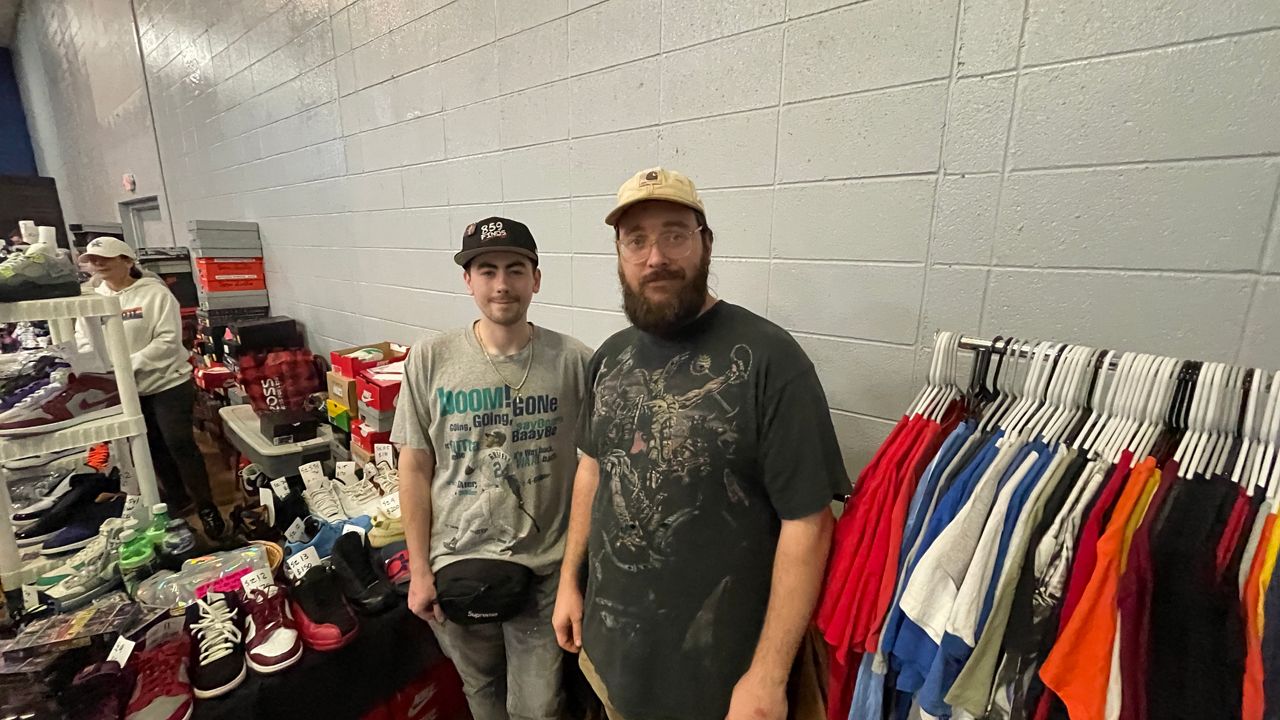 (Left to right) Jaymon Blanton and Trenton Bruner are two of Lexington's local shoe, clothing, and other classic item business owners. (Spectrum News 1/Sabriel Metcalf)
Blanton has been in the custom shoe game for a few years and has made it his full-time job, something you can tell he enjoys by the conversations he shares with those who stop at his section.
With sneaker and vintage clothing resale becoming more popular over the last two decades, Blanton says the industry felt the impact of the pandemic like many others. 
But he says for some sneaker lovers getting the latest drops and more is never quite put on pause.
"Some of the prices have dropped since covid, when people were just spending every dollar they had," he recalled.
Helping bring vintage clothing and other nostalgic treasures along with the custom shoes was Nice & Threaded's Trenton Bruner. Bruner says that they want to spread the art of the industry to other local businesses.
"We are bringing it here. And so when we brought it here, we saw a great response to that. and once we started seeing you know, we can create our markets locally to provide for our communities. So our community here has picked that up and they ran with it," Bruner said.
The two partner at various festivals around central Kentucky. Blanton says he spends a lot of time learning what to expect with the festival and the rare shoes' value.
"The sneakers are still going, there are people in here with $100,000 cash right now looking to spend every dollar on just one group, so there are multiple people in here with $10,000 and $20,000 looking to put shoes into their shops and different little things like that," Blanton explained. 
From classic style to specific colorways, overall lessening retail value might be helpful for the sneaker experts and those hoping to cop an exclusive kick.