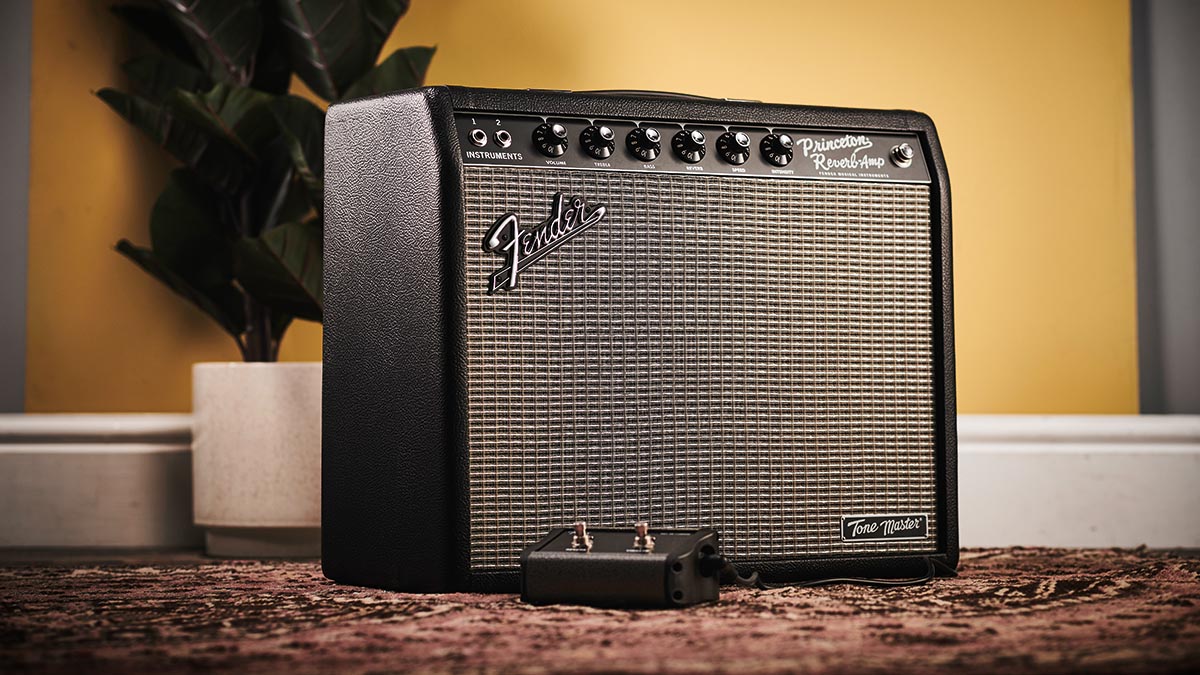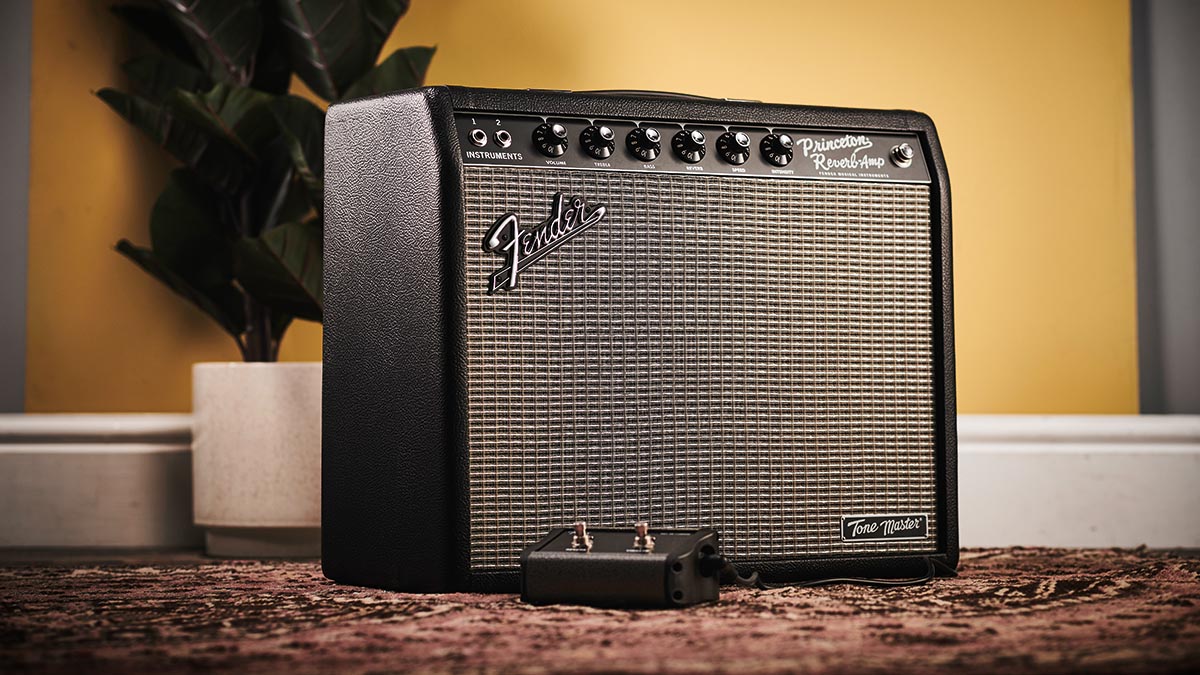 The Tone Master Princeton Reverb is an almost perfect digital replica of the mid-'60s black-panel Princeton Reverb but with no tubes and no reverb springs to break.
Pros

+

Same good looks.

+

Almost exactly the same sounds.

+

Roughly a third less weight.
Cons

–

Little pricey for an all-digital amp.

–

An input clip indicator would be handy for pedal users. Tremolo effect could do with more range and intensity.
Why you can trust Guitar World
Our expert reviewers spend hours testing and comparing products and services so you can choose the best for you. Find out more about how we test.
Leo Fender began building guitar amplifiers under his own name in 1946, half a decade before the Telecaster, with the original trio of the Princeton, Deluxe and Professional.
Often referred to as the 'woody' amps, because of their hardwood cabinets and fixed wooden handles, these were the first Fender-badged products made after Leo's short-lived venture with Clayton Orr 'Doc' Kauffman (the 'K' in K&F Manufacturing). 
Ever since, the Princeton name has survived in various guises, with the mid-1960s tube-powered black-panel Princeton Reverb revered by many guitarists as one of the top three from the pre-CBS Fullerton era. 
More recently in 2019, Fender surprised a lot of people with the Tone Master range – recreations of those classic '60s amplifiers that replaced traditional valve circuitry with modern digital signal processing and Class D output power. We've already experienced the Deluxe and Twin Reverb, followed by the Super Reverb, now it's time to welcome amp number four in the Tone Master range, the Princeton Reverb.
Viewed from the front, this amp is almost identical to the classic mid-'60s design, with a period-correct badge and silver sparkle grille cloth adding to the vintage vibe. The only difference is a discreet 'Tone Master' plate in the bottom right corner. Just like the original, the cabinet is pine, covered in black Tolex, with chrome strap washers securing the aluminium chassis and a smart black carry handle with chrome caps.
While the Tone Master Princeton Reverb's chassis is a similar size and shape to its valve cousins, the electronics are very different. There are no valves and no heavy transformers. Instead, you'll find lots of SMD components and microprocessors densely packed on high-quality circuit boards, joined by ribbon cables. The loudspeaker is a reissue Jensen C10R, which was a common partner for the original amp.
Originally manufactured in Chicago, modern Jensens are made in Italy by Sica, who build excellent reproductions of the classic models alongside new designs, such as the neodymium N12K drivers loaded in the Tone Master Deluxe and Twin Reverb. There's no provision for plugging in external speakers, although the Tone Master's DI can connect to a PA.
The Princeton's front panel stays true to the original, with a pair of high- and low-gain input jacks, followed by controls for volume, treble, bass, reverb level, vibrato speed and intensity.
On the rear panel there's a universal voltage mains socket and a pair of power and mute switches, followed by an output power selector switch that reduces the virtual 12 watts of valve power to six, three, 1.5, 0.75 and 0.3 watts.
Towards the right, there's a balanced XLR line out with a level control and ground lift switch, together with a selector for two cabinet simulations plus a bypass. Lastly, there's a single jack socket for the Princeton's two‑button footswitch, which toggles the reverb and vibrato effects.
The 'vibrato' term is historically incorrect; the effect is actually tremolo, but the vibrato name stuck and has been there for six decades. Overall, the Tone Master Princeton Reverb looks the part, it's built to the same high standards as the valve equivalent and yet weighs about a third less.
Feel & Sounds
The Tone Master Princeton Reverb's jewel power indicator light flashes red and amber for a few seconds as the software boots up, after which the amp is ready for use. 
Background noise is noticeable by its absence; there's practically zero hiss or hum. However, the tone is pure black-panel Fender, with a sweet high-end, slightly scooped midrange and a generous bass. 
The amp is equally flattering to single coils and humbuckers, responding as you'd expect with slightly more drive when a Les Paul is plugged in. It's a little tighter-sounding than the Deluxe or Twin due to the slightly more compressed frequency range of the 10-inch driver and smaller cabinet – characteristics that made the '60s tube version a studio favourite.
Generally, the effects are very good. The tremolo range covers deep, slow Americana pulses to a fast stutter, although the intensity fades somewhat as the speed rises, which is common on many originals as the range is partly determined by the fixed bias setting.
The Tone Master's digital convolution reverb effect is maybe a little brighter than some '60s Fender amps we've used, although the detail is spookily accurate – you can almost hear the notes ping-pong between transducers in the virtual spring.
To capture this, Fender has leveraged huge amounts of processing power, using half of a high-spec quad-core DSP just for the reverb, a whole core for the amp sound, and the remaining core for the cabinet simulations. This Princeton Reverb's digital tremolo effect was arrived at after comparing many vintage originals, and represents what Fender considers to be the best all-round combination of waveform, amplitude and speed range.
Likewise with the reverb, where the characteristics of Fender's transformer-coupled spring circuit were analysed to arrive at an ideal version. In the original amp, the tremolo effect was achieved by varying the output valve bias and came after the reverb, creating a subtle 'ducking' effect when the amp was played harder, which the Tone Master also gets.
Fender has also recreated the Princeton's valve-rectified squash and sag dynamics when the amp is played at higher volume levels, as well as the rich overdrive that starts to bare its teeth at around the halfway mark.
Even with just 12 watts, a tube Princeton turned all the way up can be unsociably loud, but thanks to the power reduction switch on the rear panel you can reduce the virtual valve output power in six steps down to just 0.3 watts, so you can experiment with non-master volume overdrive at home-friendly levels. 
Generally, the Tone Master works fine with various pedal combinations, too. Delays and modulation effects sound great, but we found that some overdrives can sound a little stressed if their output level is pushed too high.
The DI output stays active when the amp is put into mute mode, which is handy for recording and quiet stage environments. Meanwhile, the built-in impulse response cabinet emulations are as good as some of the best standalone effects we've heard, with a choice of ribbon or dynamic microphone simulations.
Used live, the combination of the lightweight resonant pine cabinet and superb Jensen speaker inside help to make the Tone Master sound very close to the real deal, with virtually identical overdrive and dynamic response. 
Verdict
We've grown used to digital modelling products offering practically infinite amplifier and effects simulations. They're usually great savers of time and space and certainly have their place for guitarists at all levels. At the top end, heavy duty processing power combined with reliability and consistency has already convinced many professionals to leave their tube amp collection at home and use digital solutions on tour.
Fender's approach with the Tone Master amps is very different, and yet we think it's just as valid. The team has replicated some of the company's most iconic products in the digital domain, with no menus or presets. They look, sound and respond very close to their '60s valve counterparts – except, no valves.
Any guitarist who uses vintage tube amplifiers to earn a living will tell you it's often a war of attrition to keep them working reliably, while modern valve amps are sometimes constrained by variations in valve quality and consistency, making it difficult to preserve subtle nuances of tone, especially in high-gain designs. And that's without ongoing supply difficulties, which have more or less doubled the price of most bread and butter replacement valves.
As for the price? Yes, it's expensive for a digital combo, until you compare it with the equivalent valve versions in Fender's catalogue. All things considered, the Tone Master Princeton Reverb is good value for money and ideal for serious amateurs and professional players in many musical genres. If you're after the vintage Fender vibe without the weight and maintenance, it's got to be on your list.  
Specs
PRICE: $/£899 street
ORIGIN: China
TYPE: Digital preamp, Class D power amp
OUTPUT: 50Ws RMS into 8 ohms (simulating 12W valve power)
DIMENSIONS: 505 (w) x 241 (d) x 406mm (h) 
WEIGHT (kg/lb): 9/20
CABINET: Pine
LOUDSPEAKERS: 1×10" Jensen C10R
CHANNELS: 1, with high and low gain inputs
CONTROLS: Volume, treble, bass, reverb level, vibrato (tremolo) speed and intensity
FOOTSWITCH: Two-button switch (supplied) toggles reverb and vibrato (tremolo) effect
ADDITIONAL FEATURES: 6-position output power switch steps virtual valve power down from 12W watts to 6, 3, 1.5, 0.75, 0.3W. Balanced mono line out on XLR with level control, ground lift and two cab sims plus bypass. USB socket for future firmware updates
CONTACT: Fender

(opens in new tab)
Thank you for reading 5 articles this month*
Join now for unlimited access
US pricing $3.99 per month or $39.00 per year
UK pricing £2.99 per month or £29.00 per year 
Europe pricing €3.49 per month or €34.00 per year
*Read 5 free articles per month without a subscription
Join now for unlimited access
Prices from £2.99/$3.99/€3.49