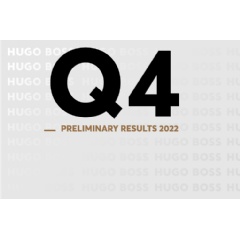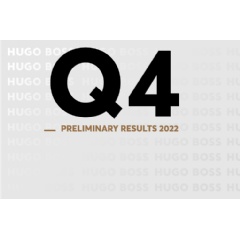 METZINGEN – WEBWIRE – Wednesday, January 18, 2023
Q4 2022
Currency-adjusted Group sales grow 15% to EUR 1,068 million; +29% vs. 2019 
Ongoing robust momentum in EMEA1 (+18%) and the Americas (+17%)
EBIT increases 4% to EUR 104 million on a preliminary basis 
Fiscal year 2022
Currency-adjusted sales up 27% to a record level of EUR 3,651 million
EBIT increases 47% to EUR 335 million on a preliminary basis 
Final results and FY 2023 outlook to be published on March 9
''2022 was truly a record year for HUGO BOSS. Thanks to an exceptionally strong final quarter, we even exceeded our own high expectations," says Daniel Grieder, Chief Executive Officer of HUGO BOSS. "Our successful comeback in 2022 is testament to the rigorous and determined execution of our 'CLAIM 5' strategy. In particular our bold branding refresh impressively fueled the brand power of BOSS and HUGO throughout the year. Building on this strong foundation, we will continue to pursue our ambition to ultimately become one of the top 100 global brands."
Following its stellar business performance in the first nine months of 2022, HUGO BOSS maintained its strong momentum also in the final quarter of the year. On a preliminary basis, currency-adjusted revenues in the fourth quarter increased by 15% compared to the prior-year period, thus exceeding 2019 levels by 29%. In reporting currency, sales grew by 18% year over year to EUR 1,068 million (Q4 2021: EUR 905 million). Quarterly sales thus exceeded the EUR 1 billion mark for the first time in the history of HUGO BOSS. This performance reflects the ongoing successful execution of various key brand, product, and sales initiatives as part of the Company's "CLAIM 5" strategy, which drove robust consumer demand for BOSS and HUGO also throughout the fourth quarter.


Ongoing brand momentum drives double-digit sales growth across all brands

Across brands, BOSS Menswear, BOSS Womenswear as well as HUGO posted double-digit sales improvements also in the fourth quarter. Brand heat continued to be driven by numerous initiatives successfully executed during the year, including the bold marketing campaigns and acclaimed fashion events for BOSS and HUGO. Consequently, currency-adjusted sales for BOSS Menswear and BOSS Womenswear each grew by 14% in the fourth quarter. Also HUGO continued its double-digit growth trajectory, posting a sales increase of 18% compared to the prior-year period. On a three-year-stack basis, currency-adjusted revenues for BOSS Menswear (+27%), BOSS Womenswear (+24%), and HUGO (+46%) also grew at strong double-digit rates, with momentum at BOSS Womenswear and HUGO even accelerating compared to previous quarters. 


Double-digit growth trajectory continues in EMEA and the Americas 

From a geographical perspective, sales growth in the fourth quarter remained particularly strong in EMEA and the Americas. Currency-adjusted revenues in EMEA increased by 18% year over year. Development was spurred by robust revenue improvements across key markets including the UK, France, and Germany, as well as a particularly strong performance in growth markets such as the Middle East. Compared to 2019 levels, this translates into a further acceleration with revenues up 33% currency-adjusted. In the Americas, currency-adjusted sales were up 17%, supported by double-digit growth in the important U.S. market. This corresponds to a significant increase of 44% on a three-year-stack basis, reflecting a strong acceleration versus previous quarters. Revenues in Asia/Pacific were down 3% currency-adjusted, as strong double-digit improvements in South East Asia & Pacific were more than offset by sales declines in mainland China. The latter largely reflects ongoing implications related to the COVID-19 pandemic, including temporary store closures during the fourth quarter. Compared to Q4 2019, however, currency-adjusted sales in Asia/Pacific increased by 4%.


Broad-based growth across all consumer touchpoints 

From a channel perspective, currency-adjusted growth in the Group's digital business increased by 9% compared to the prior-year period, driven by double-digit sales increases in the Group's digital flagship hugoboss.com as well as robust improvements in digital revenues generated with partners. Compared to 2019, total digital sales virtually doubled, up 92% currency-adjusted. In brick-and-mortar retail, momentum also remained strong with currency-adjusted revenues up 12% compared to the prior year. On a three-year-stack basis, growth in brick-and-mortar retail amounted to 22%. In brick-and-mortar wholesale, currency-adjusted sales were up 29% year over year. This development reflects ongoing robust demand from wholesale partners for both brands' collections, enabling BOSS and HUGO to strongly improve visibility and penetration at key wholesale partners. Compared to pre-pandemic levels, this translates into strong double-digit growth of 21%. 


Significant top- and bottom-line improvements in fiscal year 2022

In light of the strong performance during the final quarter of 2022, HUGO BOSS exceeded its full year 2022 sales and earnings targets, which had been revised upwards twice during the course of the year. Fiscal year 2022 thus marked a first important milestone in the successful execution of "CLAIM 5". In particular, the new and powerful brand image of BOSS and HUGO drove brand momentum throughout the year, resulting in strong sell-through rates and enabling both brands to successfully expand market share globally. On a preliminary, non-audited basis, HUGO BOSS thus achieved record sales of EUR 3,651 million in fiscal year 2022, reflecting strong growth of 31% in reporting currency (guidance: increase between 25% and 30% to EUR 3.5 billion to EUR 3.6 billion; 2021: EUR 2,786 million). On a currency-adjusted basis, this translates into an increase of 27%. 


At the same time, HUGO BOSS recorded significant bottom-line improvements in fiscal year 2022, as the strong top-line development more than compensated for ongoing brand, product, and digital investments as part of "CLAIM 5". Subject to the completion of year-end closing procedures, the Group anticipates that operating profit (EBIT) will increase by 47% to an amount of EUR 335 million for full-year 2022, thereby exceeding current market expectations (guidance: increase between 35% and 45% to a level of EUR 310 million to EUR 330 million; 2021: EUR 228 million). The final quarter is expected to contribute an EBIT of EUR 104 million, up 4% year over year (2021: EUR 100 million). As a result, the EBIT margin for full year 2022 is expected to increase to a level of 9.2% (2021: 8.2%).


HUGO BOSS will publish its final results for 2022 and its financial outlook for the fiscal year 2023 on March 9, 2023. 
GROUP.HUGOBOSS.COM

TWITTER: @HUGOBOSS

LINKEDIN: HUGO BOSS
( Press Release Image: https://photos.webwire.com/prmedia/8/299513/299513-1.png )
WebWireID299513
This news content was configured by WebWire editorial staff. Linking is permitted.
News Release Distribution and Press Release Distribution Services Provided by WebWire.