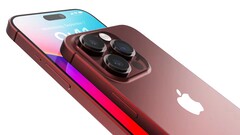 Reputedly, Apple will make major design changes with this year's iPhone 15 series, Pro models especially. According to a new report, even the sacred mute switch is not safe, which has hardly changed in the iPhone's 16-year history.
Last month, Technizo Concept shared concept images of the iPhone 15 Pro Max, one-half of the iPhone 15 Pro series. While the device looks a lot like its predecessor, 9to5Mac claims that Apple is planning significant usability changes with its next-generation flagship iPhones. Supposedly, Apple will adopt capacitive or solid-state buttons with the iPhone 15 Pro series that provide haptic feedback rather than a physical click.
In other words, the buttons will lack any moving parts and will utilise small motors to confirm a button press. Incidentally, a patent for this technology was discovered earlier this year. In theory, a large Taptic button will send a volume up/down command to iOS, depending on where you press it.
The same will apply to the mute switch, which has been a mainstay of iPhones since the inaugural model that Apple introduced in 2007. 9to5Mac does not mention Apple including a solid-state power button though, which would be an odd omission when pivoting away from physical parts. As it stands, it appears that Apple has reserved these changes for the iPhone 15 Pro and iPhone 15 Pro Max, with the iPhone 15 and iPhone 15 Plus retaining physical buttons. 
Alex Alderson – Senior Tech Writer – 7481 articles published on Notebookcheck since 2018
Prior to writing and translating for Notebookcheck, I worked for various companies including Apple and Neowin. I have a BA in International History and Politics from the University of Leeds, which I have since converted to a Law Degree. Happy to chat on Twitter or Notebookchat.
Alex Alderson, 2023-03- 6 (Update: 2023-03- 6)