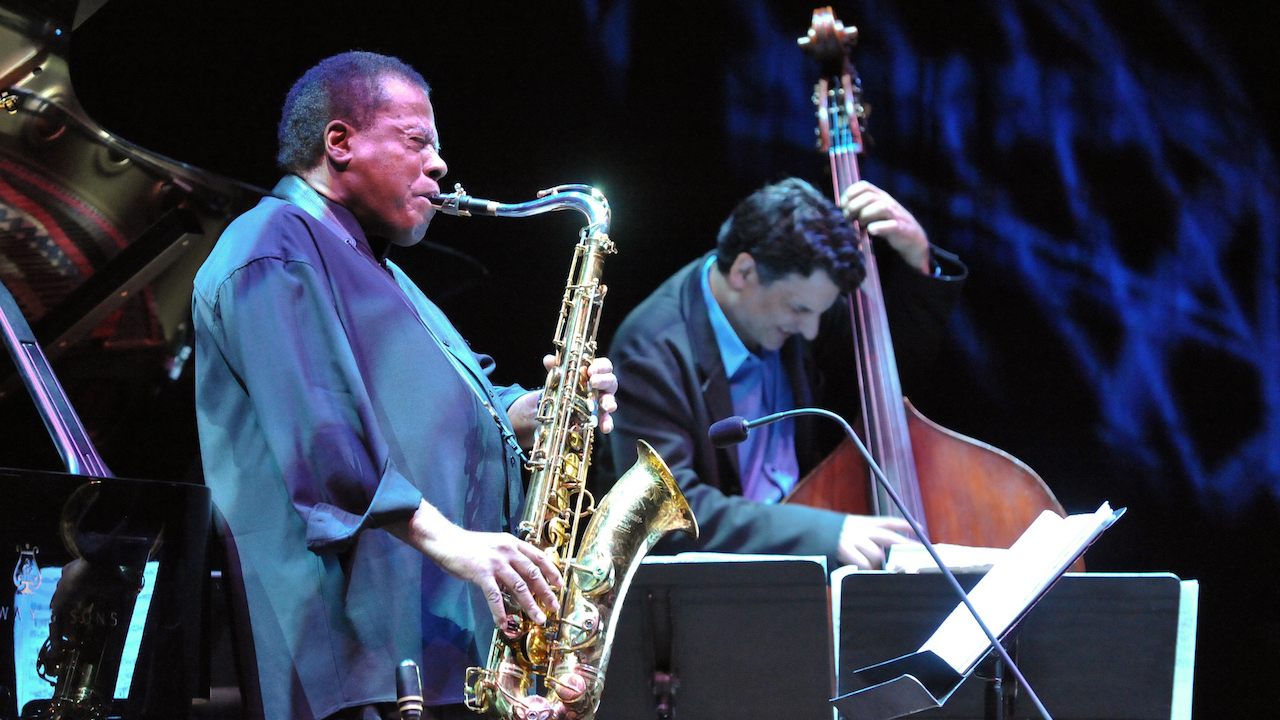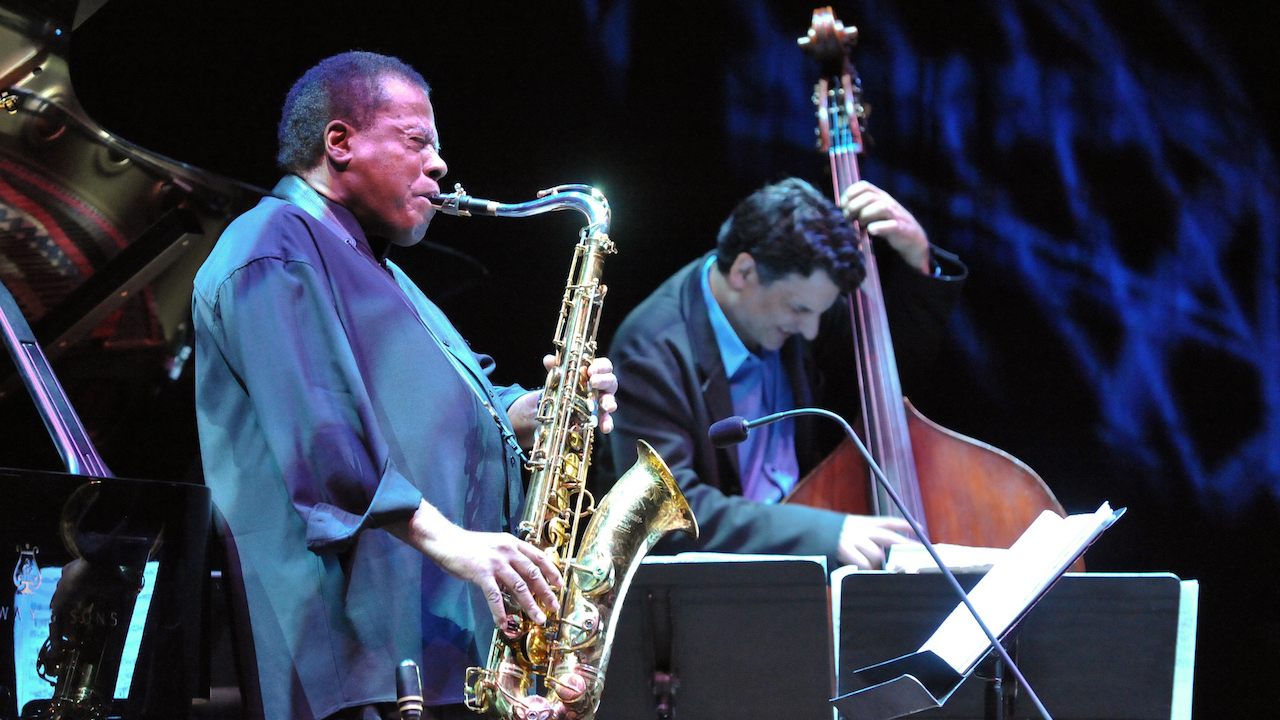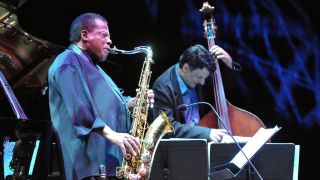 (Image credit: Photo by Andy Sheppard/Redferns)

One of the true masters of jazz, tenor saxophonist and composer Wayne Shorter passed away during the early hours of March 2. The bass playing public has since gathered to express their appreciation for Shorter's constant creativity. "My favorite musician just left this earthly plane," said Tal Wilkenfeld. "The lessons I learned from Wayne Shorter are immeasurable and profound."
Throughout his career, Shorter was known to seek out some of the finest bass players in the business. His debut as bandleader in 1959 featured the great Paul Chambers. With Miles Davis he shared the stage with Ron Carter and Dave Holland. As a leader of fusion supergroup Weather Report he enlisted Miroslav Vitous, Alphonso Johnson, Jaco Pastorius and Victor Bailey. 
"Our fearless leader," wrote Felix Pastorius, whose father Jaco starred alongside Shorter in Weather Report from 1976 to 1982 when the band was at its peak with hits like Birdland. "Thank you for your unwavering dedication to the pursuit."
In 2000 Shorter formed his longest-running ensemble, the Wayne Shorter Quartet, featuring a handpicked group of musicians that included bassist John Patitucci. "Wayne challenged us and empowered us to go on the most incredible journey of life, spiritual unity and artistic growth," Patitucci wrote on social media. "Before we would play concerts Wayne would sometimes recount the idea he and Miles Davis would express of 'playing like we don't know how to play.' He never lost that childlike wonder of discovery. My gratitude for him is boundless."
Robert Trujillo, who crossed paths with Shorter during the making of 2015's Jaco Pastorius documentary, said, "So grateful to have worked with him on Jaco. A wise man, creative master and positive spirit. Just hands down the coolest cat!"
Beyond his work with his quartet, Shorter had also spent recent years composing an opera in collaboration with Esperanza Spalding. "If there was a language with a word 100x stronger than 'gratitude' to express what I feel about this friend, teacher, trickster…I reckon that language is in all his music," wrote Spalding. "Now we keep listening deeper and more expansively than ever."
Richard Bona added, "And the genius is gone… RIP Wayne Shorter."
More tributes can be found below.
Flea
"One of the greatest musicians to ever walk the planet. Thank you for setting the bar so high Wayne. Your music will ring out and touch hearts forever. It will be studied and admired always. My god, you gave us so much. Some of the best concerts I was ever lucky enough to witness. My hero. I'll spend my life working towards being a fraction as good as you. We felt all your intellect, all your spiritual depth, all your love, in every note you recorded. Fly on."
Ben Williams
"Every piece of music I've written, you were the bar from which I measured my work. Every note seemed to come from somewhere divine yet always felt rooted. I can't thank you enough for the impact you've had on the world. You've left us so much to do, to think about it, to consider and reconsider. Peaceful journey."
Gary Willis
"We're all better for having shared the planet with this giant, Wayne Shorter. For a short period of time I was lucky enough to have the best seat in the house. I remember sometimes after solos I'd notice his eyes roll back down as if he'd been looking up in the heavens visiting another world. I'm sure whatever world he finds now is also richer for his presence."
Linda May Han Oh
"In the few brief conversations I had with Mr Shorter, we spoke about our favorite Neil Gaiman books and I told him that we shared the same birthdate. I never expected him to remember me, but on a few occasions when he saw me he'd motion to me like he was playing the bass and pulling the strings hard. His music has touched me to the core and I've always been fascinated by his playing and his incredible output as a composer, improviser and his resilience. Rest in Power Wayne Shorter. What an inspiration."
Darryl Jones
"A giant has changed worlds. I cannot express how important Wayne Shorter is to those of us who are disciples of this music. As an instrumentalist, his creative breadth and excellence has very few peers. As a composer, his body of work stands at the vanguard of modern music. As a conceptualist, he stands shoulder to shoulder with the greatest architects of sound and rhythm the world has produced. He was/is an immensely unique individual in a field of incredibly unique individuals. Long live Wayne Shorter. A giant has changed worlds."
Will Lee
"RIP Mr Shorter. He was a time traveler, innovator, explorer of textures and harmony. A scientist, a demonstrator of how it's done, an observer, an icon. Thank you for all your creations you shared while you were here for this short visit to our plane. No doubt your Buddhist teachings informed of the next phase, but we'll certainly miss you being with us. Peaceful journey."
Derrick Hodge
"Wayne Shorter breathed life into me as a creative at 18 years old. I heard his music in a way that dared me to imagine and pursue what is possible. We recorded Fall on my Color Of Noize album in dedication to Wayne and the great Ron Carter specifically.  The entire music community owes you a great deal of gratitude.  All I can say at this moment is a heartfelt THANK YOU for being a true guiding light."
John Clayton
"Wayne Shorter. His music was beyond powerful. It was vast in its expressiveness and he really knew no boundaries regrading style and influences. My granddaughter, barely walking at 1, would freeze in her tracks, hypnotized and swaying when she heard Wayne's Ponta de Areia. Sure, it could have been another song, another composer, but it was Wayne, and only Wayne."
Steve Pearce
"I am privileged to have been alive for his visit to this earthly existence. I was that wide-eyed 17-year old newbie driver, parking outside the Rainbow Theatre in 1977, buying a ticket off a tout for £6.00, and then bathing in the magnificence of Wayne, Zawinul, Jaco, Acuna, and Badrena. Wayne played Thanks for the Memory as his feature. Still somewhat astonished that I actually got to record with him, enjoy lunch and sci-fi tales with him! An improvisational genius and a unique force, indeed."
Thank you for reading 5 articles this month*
Join now for unlimited access
US pricing $3.99 per month or $39.00 per year
UK pricing £2.99 per month or £29.00 per year 
Europe pricing €3.49 per month or €34.00 per year
*Read 5 free articles per month without a subscription
Join now for unlimited access
Prices from £2.99/$3.99/€3.49