PADUCAH, Ky. — A Kentucky native is back in the spotlight to seek redemption as Top Chef's World All-Star.
---
What You Need To Know
Top Chef will celebrate its 20th season with World All-Stars Edition

Kentucky Chef Sara Bradley will appear in the season, which premiers on Thursday, March 9

Chef Bradley is the owner of Paducah restaurant Freight House

She previously appeared on Top Chef season 16 and got second place
---
Paducah native Sara Bradley first appeared on season 16 of Top Chef and now will represent the state as one of the show's greatest competitors for the World All-Stars Edition.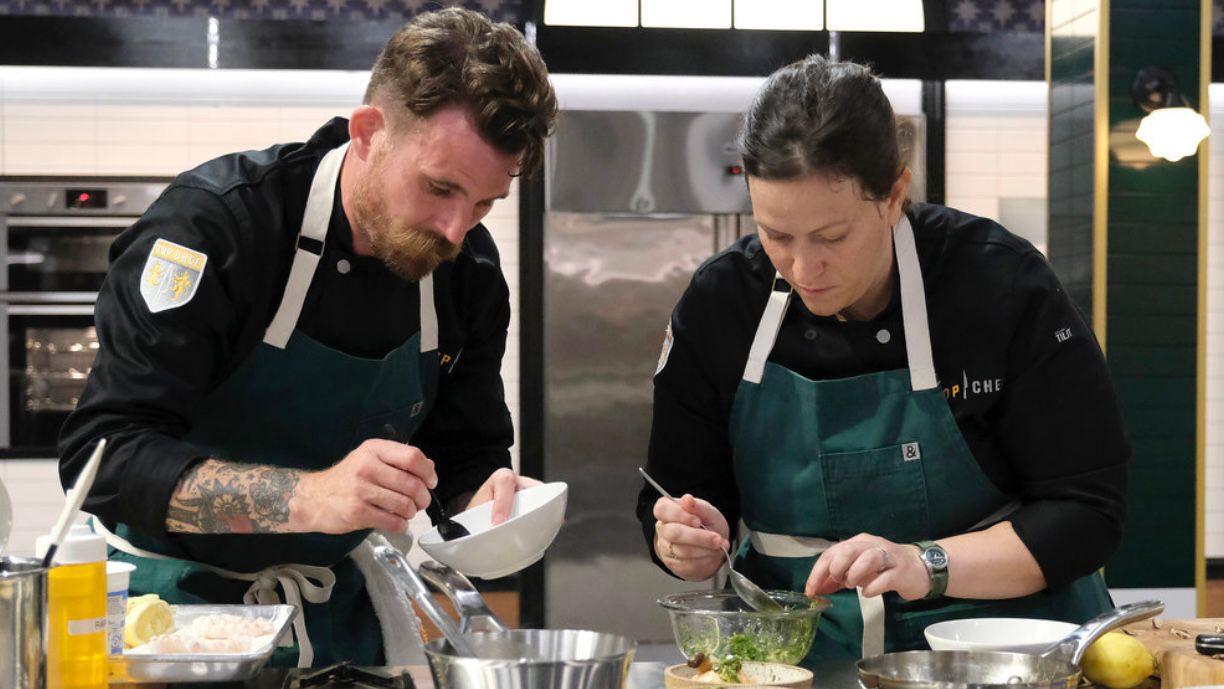 Chefs Dale MacKay and Sara Bradley concentrate on cooking a dish. (Bravo/David Moir)
Chef Bradley has cooked professionally for over 20 years, including with Michelin star chefs in Chicago and in New York. In 2015, she made her way back home to Kentucky to purchase an over 100-year-old building where she'd later make it her restaurant called Freight House.
This season is being filmed in London, where Bradley and other chefs will showcase their culinary skills through putting their spin on British food staples like beef wellington and biscuits to pub food and afternoon tea.
"I got second place, so I've always spoken with my husband about 'What if they call you again? Will you do it again? Are you looking for redemption?' And I would always say I am, but I don't know if I'll do it," Bradley recalled. "And when [Top Chef] called, [my husband] was in the room and we didn't even have to discuss whether or not I was going to do it, the answer was just yes."
In a recent Instagram reel from Freight House, Chef Bradley gives a virtual tour to people not able to make it to Paducah to see the iconic nature of the building. She explains why it's so important to stay true to the historical features.
"In the next coming weeks, I'm going to give you a really cool history of a lot of things going on in this building. We worked really hard to keep much of the local history, the local products, to reuse things, it's super important to the style of cooking," said Bradley.
The reason for coming back to Kentucky was simple for Bradley—she missed it.
"I always kind of missed home, Kentucky, in the back of my mind and heart. I decided to go back home in 2015 and I bought an old vegetable depot. We have since turned it into a restaurant that serves locally sourced, hyper-seasonal, new southern food," said Bradley.
Bradley credits her mother's Jewish heritage and father's Appalachian roots for the dishes she creates. It won't be just her fighting tooth and nail this season—she's facing 15 other chefs representing 11 Top Chef versions of the show.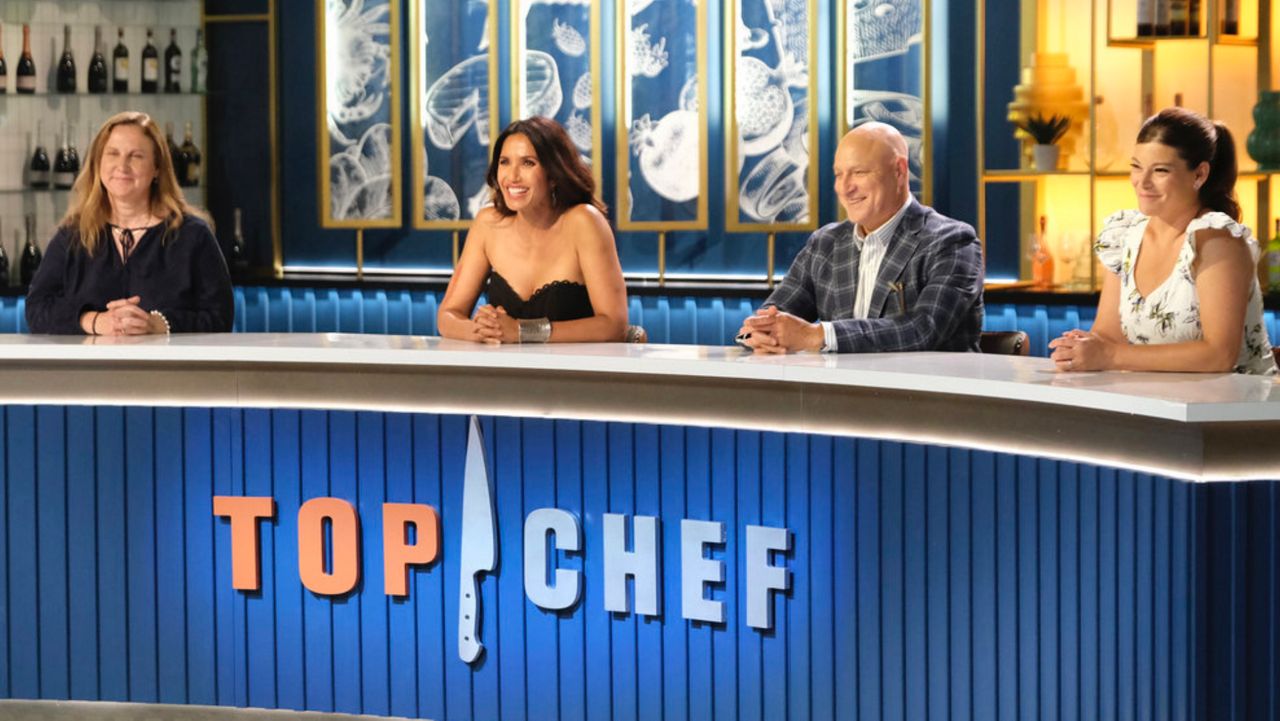 (Left to Right) Judges Angela Harnett, Padma Lakshmi, Tom Colicchio and Gail Simmons sit at the "Top Chef" table. (Bravo/David Moir)
"I just really wanted a chance to go all the way this time. But I don't think that anyone can be prepared for what this next season has to offer in terms of the level of chefs that are there," Bradley said. "These are people that have either won or finalists in other countries and so everybody that's been there has done it. And has gone all the way to the end, whether they won or not."
Chef Bradley wants all the foodies to know she's dreaming of bigger goals like opening another restaurant and finishing the cookbook she's working on. 
"But I think what I'm enjoying the most is being a mother and being an honest, decent business owner. I think those are two things to really be proud of and I'm embracing them in every moment," said Chef Bradley.
She says regardless of the outcome of the season, those are the things that will always keep her going. People looking to watch Chef Sara Bradley in this season can see her this Thursday, March 9 on Bravo from 9 to 10:15 p.m. ET. Chef Bradley will face off against chefs from the U.S. Thailand, Poland, Canada and several other countries.